02

03 04 05 15 16 19 20 21 22 23 24 25 26 27 28 31 32 33 34

What's the perfect way to use the adorable pom poms we've been seeing everywhere?



Make a birth-announcement-wreath for the front door, of course! (Perfect for my brand new niece xxoo)
Here's how I did it:
To make the pom poms:
1.Wrap yarn around and around your fingers, until you're happy with the thickness of it. (Pulling the yarn from the inside of the roll makes it much easier, by the way!)
2. Tie a piece of yarn around the bundle, in a tight knot.
3. Snip all the loops.
I made about enough pom poms to fill up a plastic grocery bag.
Ain't it cute?
4. Now, you can give each one a little haircut if you like, to make them a little neater. Just cut off the long pieces and round it out some.
Then assemble the wreath:




1. Wrap your wreath form with yarn. (I got this wreath form for under $3 at Wal-Mart.)




Cut off one long piece of yarn to work with at a time.

I just held the end of the yarn and wrapped over to hold it in place.



2. Hot glue the pom poms onto the wreath.

(Don't burn your fingers, like I did.)




3. If you like, add a tag with a piece of yarn threaded through and tied around the wreath.

And the best part is this cutie can go from the front door...

to wall decor!




How sweet will this be on baby girl's wall? ;)



Sharing at these parties...
Ginger Snap Crafts
The Shabby Nest
Home Stories AtoZ
and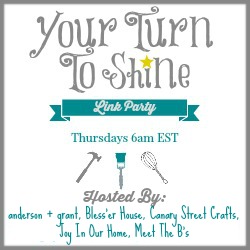 Labels: diy projects, motherhood, raising girls

35 36 37 38